International Dialogue
Summary of Dialogues
The Second Japan-Taiwan Dialogue Convened
"The Role of Japan and Taiwan in the Asia-Pacific Region in the 21st Century"
The Second Japan-Taiwan Dialogue co-sponsored by the Global Forum of Japan (GFJ) and the Chinese Eurasian Education Foundation on the theme of "The Role of Japan and Taiwan in the Asia-Pacific Region in the 21st Century" was convened on July 12-13, 2001 in Tokyo. After a welcome dinner on the evening of the 12th held by Amb. Okawara Yoshio, GFJ Chairman, a lively full-day discussion at the International House of Japan comprising of morning, lunch and afternoon sessions took place on the 13th amongst the 76 participants from Japan and the Taiwan centering on GFJ members.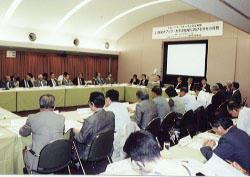 A lively exchange of opinions in the morning session
The Strategic Relationship of Japan-US-China-Taiwan
The morning session of the 13th was chaired by Prof. Ito Kenichi, Governor and Executive Director of GFJ. Prof. Morimoto Satoshi, Takushoku University, began proceedings with a keynote address entitled, "Japan and Taiwan Under New Asia-Pacific Strategic Realities." Prof. Morimoto expounded that, "Globally, relations between the major nations are currently not entirely harmonious and as before the sources of instability in Asia remain in place. Furthermore, when considering the long-term future of Asia, the future of China must be given due regard. Given this situation, as well as maintaining the Japan-US alliance, there needs to be strategic dialogue between Japan and Taiwan on issues including missile defense proposals." Following on in the same vein, Dr. Huang Chieh-cheng, Vice President, Chinese Eurasian Education Foundation, in his keynote address stated that, "Taiwan is under pressure from both the United Sates and China, thereby placing it in a difficult strategic position. However, Japan as well is not necessarily outside of this framework. When observing each of the dialogues between Japan, the United States, China and Taiwan, it can be seen that dialogues with Taiwan are limited to citizen level talks (Track 3). However, what are needed are dialogues with a certain amount of authority from the government (Track 2.5)."
In response to the two keynote addresses Mr. Lin Chia-lung, Senior Advisor, Taiwan National Security Council, replied that, "Taiwan should support Japan as a normal nation in its move toward exercising its right to collective self-defense." Amb. Miyamoto Nobuo, Councilor, the Japan Forum on International Relations, commented that, "if one looks in units of 50 years, there is a possibility that China's political system will weaken. While Taiwan is waiting for this change, the United States and Japan need to maintain strategic relations with Taiwan."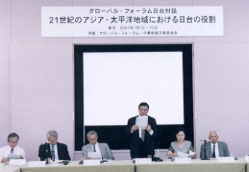 Mr. Tseng Yung-hsieng, Vice Chairman and CEO, Chinese Eurasian Education Foundation giving his opening remarks in the afternoon session.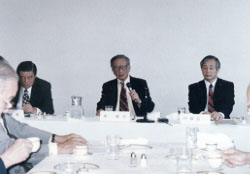 Prof. Alexander Young, Professor Emeritus, State University of New York presenting his lecture over lunch.
Northeast Asia Free Trade Zone
In the afternoon session, Mr. Tseng Yung-hsieng, Vice Chairman and CEO, Chinese Eurasian Education Foundation, assumed the chair with "Designs for a Northeast Asia Free Trade Zone" being taken up as the topic of discussion. In the first keynote address of the session, Dr. Tu Chaw-hsia, Director of International Economy, Chung-hua Institute for Economic Research, reported that, "Japan and Taiwan should immediately begin negotiations to conclude a Free Trade Agreement (FTA). In considering an FTA in the context of Northeast Asia, the industrial sector and participating members should initially begin from areas that are feasible and progress incrementally from there, ultimately encompassing the whole of Asia." Continuing on, Mr. Yamazawa Ippei, President, Institute of Developing Economies, in the second keynote address claimed that, "Rather than progressing incrementally, strengthening economic cooperation throughout the entire East Asia region including Japan, South Korea, China, Taiwan and ASEAN should be a priority. The aim of this regionalism is to overcome the economic crisis and to secure sustainable growth. It is imperative that neighboring countries, which are in the same situation, work in concert with each other to promote liberalization and structural reform."
Regarding those two keynote addresses, Mr. Mizoguchi Michio, Standing Advisor, Kajima Corporation, commented that, "Promoting an FTA between Japan and Taiwan is unrealistic" and went on to suggest that, "APEC set up an East Asia Committee as an initial step toward an East Asia FTA." Following on, Prof. Chou Teng-chen, Department of Economics, National Taipei University, commented that, "Beginning debate on an FTA between Japan, South Korea and Taiwan would be effective in dealing with the common threats that each nation feels and therefore I support it", which lead to a split in the debate on the issue.
Furthermore, at the Lecture Luncheon, Prof. Alexander Young, Professor Emeritus, State University of New York, in his lecture put forward the view that, "Japan's choice in Asia's new order, where the great eagle (USA) and the giant dragon (China) cooperate and clash with each other, is a matter of great interest for the entire world."
The Dialogue was reported in a large article in the following day's (July 14) edition of the Japan Times.